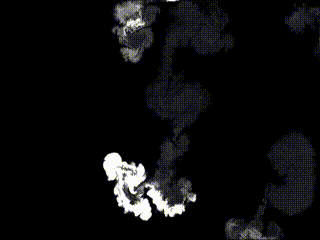 Right now in a used Kentucky bourbon barrel on a farm in southern Germany, a "
black whisky
" is approaching maturity. Emerging from research conducted over Dexter Sinister's Randolph Cliff residency at University of Edinburgh College of Art in 2009, the 12-year whisky is produced together with artist, publisher, and spirits-maker Christoph Keller, released under the Stählemühle name, and will be ready in 2021.
Dexter Sinister also created
Black Whisky (Blind Proof)
set on the letterpress at the College of Art that functions as both the label design and as a proof of investment in shares to produce Black Whisky, a certificate to be traded for a bottle after the 12-year period.
At around the same time, Dexter Sinister was experimenting with marbling techniques. One marble resembled the churn of whisky, with a ghostly number 18 written into the mix. The image was used as the cover of the 18th edition of Dot Dot Dot (a semi-annual journal published by Dexter Sinister), with the whisky label printed on the back.
Ten years on, Dexter Sinister has created a software version of the black marbling, return- ing the oil and water to its fluid state where it will change, mix and shift until the Black Whisky is ready to drink in 2021.
*